Stronghold Portal
Our state-of-the-art portal solves the biggest challenges faced by procurement teams everywhere. Our goal is to make your workforce safer, your procurement process more efficient, and your operations more reliable. We pride ourselves on constantly exploring new ways to streamline purchasing and offer authentic solutions to the growing procurement frustrations.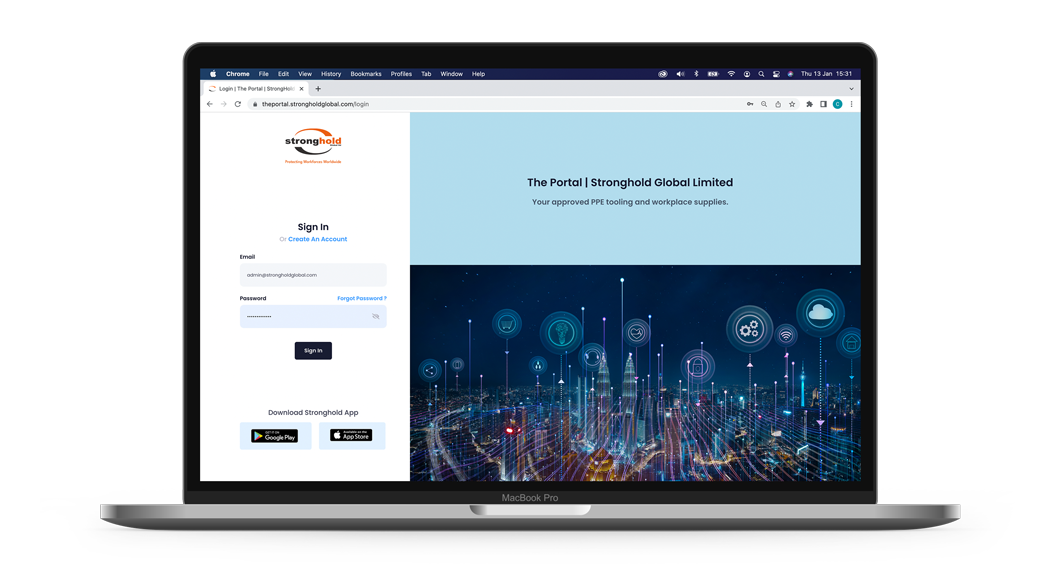 Our Smarter Service
It's no accident we have the best procurement portal from a Health & Safety point of view, however, our innovative technology is just the start. The development of our technology has been carefully crafted to cover multiple aspects of procurement, health and safety, and management. We offer our Smarter Service digital solution for businesses looking to make the requisition of products quicker, cheaper, and more reliable. These solutions can be completely customisable, so you're getting exactly what matters most to you.

We've spent time listening to businesses like yours, understanding your challenges and finding ways to solve them. Thanks to our digital portal, we're helping businesses to save time, cut costs, and prevent accidents whilst providing excellence in service, quality, innovation, integrity, and social responsibility.
This service is built around seven customer-first principles, what we call the Stronghold Seven:


Delegation Control
We let you create an ordering hierarchy that works for you. Place orders centrally or delegate control to different sites, teams or managers. Each buyer only sees products relevant to their work; therefore, every product ordered is guaranteed to comply with your health & safety and procurement policy.

Set Team Budgets
Avoid overspending by setting central and local budgets. You can set individual budgets for each team, site, or department. Our comprehensive reports provide the full details of everything ordered and allocated – right down to the individual employee.

Employee Management
Through our portal, you can track and trace all products ordered to any individual. At the click of a button, find out who has compliant workwear and safety supplies. You can also view and keep track of all assigned tools, as well as employee training and health & safety records (like face fit testing).

Reduce Risk
Reduce the risk of accidents and claims thanks to our extensive range of compliant-only products. However, if an unfortunate event occurs and someone injures themselves whilst at work, the portal's transparent ordering and reporting process provides digital proof of compliance and compelling evidence to help resolve any potentially litigious disputes.

Track Product Lifecycles
Why leave the replacement of vital safety gear to chance? With the option to load product life expectancy into the portal, you'll always be ready to re-order at the optimum time, ensuring productivity doesn't stop while staff are waiting for replacements. This also helps you prevent waste and the unnecessary re-ordering of products before the renewal date.

Re-Charge Feature
Set a higher price for sub-contractors or other divisions within your group. Assign a user as a re-charge user to show them only the rate you've set on their orders and reports. No matter the re-charge amount, you will only be charged on the agreed contract rate, allowing you to cross-charge across your business and increase profits on what would otherwise be an expense.
Frequently asked questions
How do I use the Stronghold Portal?
What is the best way to place an order?
Is there a limit to the number of users I can assign to the portal?
Will the Stronghold Portal integrate with my ERP?
Will there be a delivery charge?
Do you use carriers or your own fleet vehicles to deliver orders?